Thanks to The Little Bee Co. for giving me the chance to review one of their adorable diapers! If you haven't heard of them yet, you need to check them out asap!
"Bee Changed and Change the World"
The Little Bee Co. is not just about cloth diapers and helping reduce the amount of waste in landfills. Their vision is much bigger and much more global.

"Our "bee changed and change the world" mission is our core: 'For each diaper purchased The Little Bee Co. will donate a diaper to an orphan in need'. Along with providing a quality diaper, our passion is to help children in need and bring an awareness to the orphan crisis consuming the world today."  
Their mission is admirable. At the time of this post, The Little Bee Co. has already helped over 8,000 children worldwide and has lead 10 successful diaper drops in just over two short years. They have helped children in China, Africa, Haiti, Jamaica, Guatamala and Joplin, Missouri right here in the United States. The Little Bee Co. has also sponsored a US based 'Diaper Drop with a Twist'. For that particular diaper drop, diaper purchasers were sent two diapers for every diaper they ordered. Every purchase at The Little Bee Co. online store will help a child somewhere in the world. The 'drop' was that the second diaper was to be donated to a mom in need. They are currently organizing future drops in Africa, Haiti, Guatemala, Honduras and Cambodia.
Bee Changed Colors and Prints
I was sent a Bee Changed Ultra Cool diaper in the new Samoa'kin Posey print. It's seriously the prettiest flower print I've ever seen on a diaper. It's girly, it's vintage; it's beautiful. If flowers aren't your thing, they've got a great lineup of colors available. The Little Bee Co. colors and prints are unlike any other diaper you'll see on the market. Yes they're bright, they're eye catching and they're vibrant. But what sets The Little Bee Co. colors and prints apart from the rest of the cloth diaper world is that each color and print represents children from all over the world. More specifically, they represent children from around the world who are in need.
Here's a full list and description of The Little Bee Co. colors and who they represent:

American Meadow -A spring green representing the USA Chinese Lotus – A natural white representing China Mexican Sol – A vibrant orange representing Mexico Jamaican Hibiscus – A soft yellow representing Jamaica African Rain – A gorgeous aqua representing South Africa Turkish Moon – A rich red representing Turkey Cambodian Blush – A perfect baby pink representing Cambodia Japanese Cherry Blossom – A bright fun pink representing Japan Bahamian Bay Blue – An intense blue representing The Bahamas Honduran Sunrise – A deep purple blue representing Honduras Guatemalan Morning Mud – A chocolate brown representing Guatemala Brazilian Ameythst – A light purple representing Brazil Moo'Rockin Cow - A cow print representing Morocco Sweet'Tush Flower – A light and airy vintage floral print representing Sweden Polk'ish Dot – A big top white with red dot representing Poland Samoa'kin Posey – A classy and sophisticated black vintage floral print representing Samoa  

 Here's an up close of the Samoa'kin Posey. Isn't it just gorgeous?!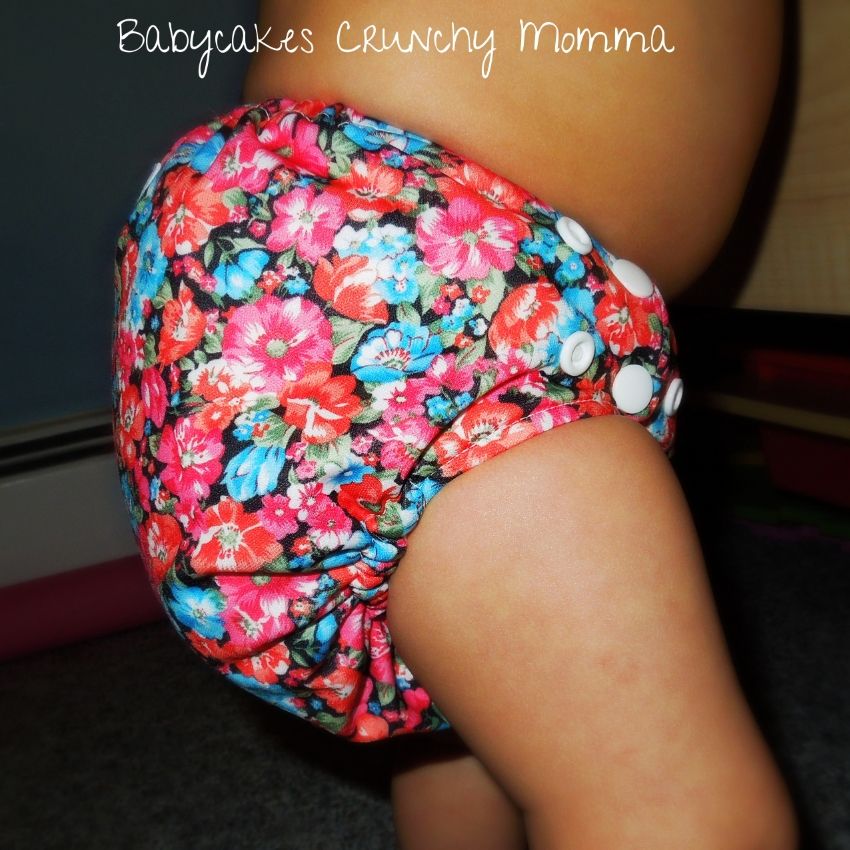 The Little Bee Co. Diapers at Work
The Little Bee Co. offers newborn microfleece diapers newborn bamboo diapers, one-size microfleece diapers, one-size bamboo diapers and one-size ultra cool diapers. Each Bee Changed cloth diaper comes with two microfiber inserts. You can also choose to upgrade to hemp/organic cotton inserts if you prefer. Inserts can be doubled and snapped together or used seperately to meet your babies absorbancy needs.
The Ultra Cool diaper is unique to the cloth diaper world. It's liner is made of a 100% all natural bamboo/organic cotton/coolplus blend. The Little Bee Co. describes the Ultra Cool diaper as "an incrediably 'cool' fiber (poly/nylon blend} that provides the ultimate comfort for your baby!" The ultra cool style diaper has "intense wicking properties, quick water diffision rate, speedy drying time and excellent air permeability". I really love the feel of the fibers and so far they seem to be perfprming as expected. The shells definately dry quickly and stay soft to the touch. At diaper changing times, Babycakes bottom is slightly damp (since it is not a stay dry type of diaper) but not nearly as damp as it is when she wears diapers lined with regular natural fibers.
We tested the diaper out during nap times and during play time. The The microfiber inserts are absorbant enough to meet Babycakes needs while she's awake and on the move and when she's sleeping. We do diaper changes every two hours during the day when Babycakes is awake. We experienced no leaks and she could have worn the diaper for quite a while longer before being completely full.
Babycakes is a very active toddler so a diaper that stays in place is a must have. The ultra cool diaper did just that. Babycakes was up, down, rolling around, climbing, crawling, you name it! The diaper stayed in place even with all her movement and shifting her weight all over. It stayed snug around her legs and waist. We were able to get the diaper tight enough to avoid gaps but it wasn't too tight to leave marks or to pinch/dig into her.
 Above is a picture of the leg openings. It was a perfect fit for her skinny legs! Below you can see how the waist is cinched in. It forms a nice tight barrier to keep messes in without being too tight.
I often have to make diapers really tight on Babycakes in order to prevent leaks. The cinched legs and waist on the Little Bee Co. diapers form a nice leak proof barrier without having to make the diapers too tight. In my opinion, these diapers are a great fit on skinny babies.
One of the great features of this diaper is the cross over snaps. I find that one-size diapers without crossover snaps do not fit really small babies as early as they claim. The way this diaper is designed, you'd be pretty hard pressed to find a small baby it didn't fit. There are also 3 different rise options so you can truly achieve the perfect fit for your baby.
 Become Part of the Bee Changed Community
If you'd like to become part of the Bee Changed community, you can choose from an array of diapers here. The Little Bee Co. offers newborn diapers, swim diapers, one sized diapers, diaper packages, inserts, detergent, clothing and more. If you're not in the market for new diapers, you can also just choose to donate and and diaper will be given to an orphan or child in need at the time of the next diaper drop.
** Attention Photographers: The Little Bee Co. also offers a Photographers Newborn Studio Kit. Newborn photo sessions are increasingly popular and what better way to spread the word about Bee Changed diapers?! Each photographer kit comes with 6 newborn sized diapers of your choice for just $50.
Not only that but "throughout the year share your studio images with us and through social media and you may be selected as a Bee Changed Photographer to travel on a future Little Bee Co Diaper Drop." So awesome.
If you'd like to win one of these wonderful diapers, check back on June 21st. The Little Bee Co. is sponsoring Babycakes Crunchy Momma in the Summer Cloth Diaper Giveaway Hop. You will have the chance to win a Little Bee Co. cloth diaper of your choice along with some other fabulous fluffy prizes. Mark your calendars!
** Disclosure: I received a free diaper from The Little Bee Co. in exchange for a review with my honest opinion. I was not obligated to write a positive review. I have expressed my honest opinion and understand that your opinions may not be the same. **