Thank you to Green Team Enterprises and Kelly Wels for sending me a Piggy Paint Gift set for review! Green Team Enterprises Distribution is a wholesale distributor of eco-friendly mom and baby products to US retailers. You can visit the Green Team Enterprises Distribution website for the complete list of products and approved retailers.
I was sent the Girls Rule! gift set for review. This particular gift set includes Forever Fancy polish, nail polish remover and Girls Rule! polish. Piggy Paint is a great non-toxic, eco-friendly polish that is safe to use on babies and children.
How cute is this gift set?!
What sets Piggy Paint apart from other polishes? Piggy Paint is:

Non-toxic
Low Odor
Water-based formula
Hypoallergenic
Fun, vibrant colors
Dries to a hard, durable finish
Cruelty-free
Safe for use during Pregnancy!
I tested the polish out on myself before using it on Babycakes. Since this is a safe polish for kids I wasn't expecting it to perform like the typical nail polishes that I'm used to. I was expecting it to be similar to the kids polish  that peels off. I was wrong. It dried hard as stated. The Piggy Paint was virtually odorless, which is great. I hate the way regular nail polish smells. It was also very easy to apply. It's nice and thin on the brush which makes it easy to apply the right amount without having too much excess. It actually had a very similar consistency and feel as if I was applying one of my expensive name brand polishes. I was able to get a smooth and consistent result that I was very happy with. I took a picture after one coat.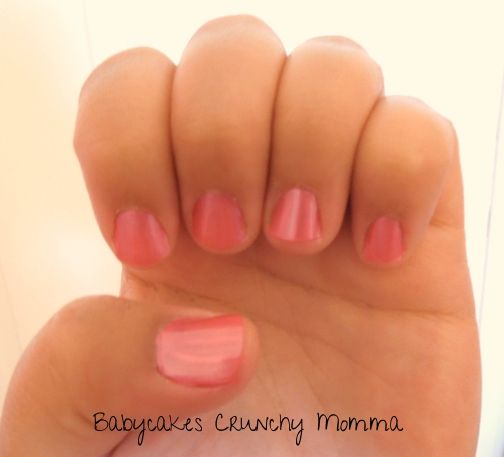 After trying it out on my nails, I felt confident that it would be okay to try on Babycakes. I painted her toes instead of her nails since her fingers are often in her mouth. Painting a squirmy toddlers nails is nearly an impossible task so I waited until she was sleeping. Here's the result:
I didn't do the best job on her big toe but once I cleaned it up later it was much nicer. It was pretty easy to apply to little tiny baby toes. I think it's really cute and I'm glad we can use a polish that is not harmful to her nails! I'm planning on buying more colors since there's so many cute options to choose from.
The gift set I received also came with nail polish remover. Piggy Paint nail polish remover is biodegradable and hypoallergenic. It's also a low odor remover and contains no acetone. Like the polish, the remover had little to no odor but when I first started to use the nail polish remover I wasn't getting very good results. Then I had an idea, read the directions! Turns out, I was doing it all wrong. Piggy Paint nail polish remover is used slightly differently than regular nail polish remover. Instead of just soaking your cotton ball and rubbing the polish off, you need to hold the remover soaked cotton ball on your nail for 30 seconds before rubbing the polish off. Worked like a charm. And just an FYI, Piggy Paint nail polish remover will get pink polish out of your light colored carpet if a toddler happens to knock it over. I may or may not be speaking from experience about this… If you ask my husband I'll say it didn't happen here!
Want to try Piggy Paint for yourself? Piggy Paint can be found at Walmart, some baby boutiques and maternity stores and online at select retailers. Green Team Enterprises also supplies Piggy Paint to select retailers.
Win it!
Green Team Enterprises is graciously offering one lucky reader the chance to win a Piggy Paint Gift Set of their own! This giveaway is open to residents of the US ages 18+. Good Luck!
*Disclosure: Green Team Enterprises sent me a product for review, free of charge in exchange for an honest review. Your opinions may differ from mine.*