As part of the Summer Fluffing cloth diaper hop, Comfy Rumps Diapers sent me one of their cloth diapers for review! I received a double gusset denim diaper. It's super cute!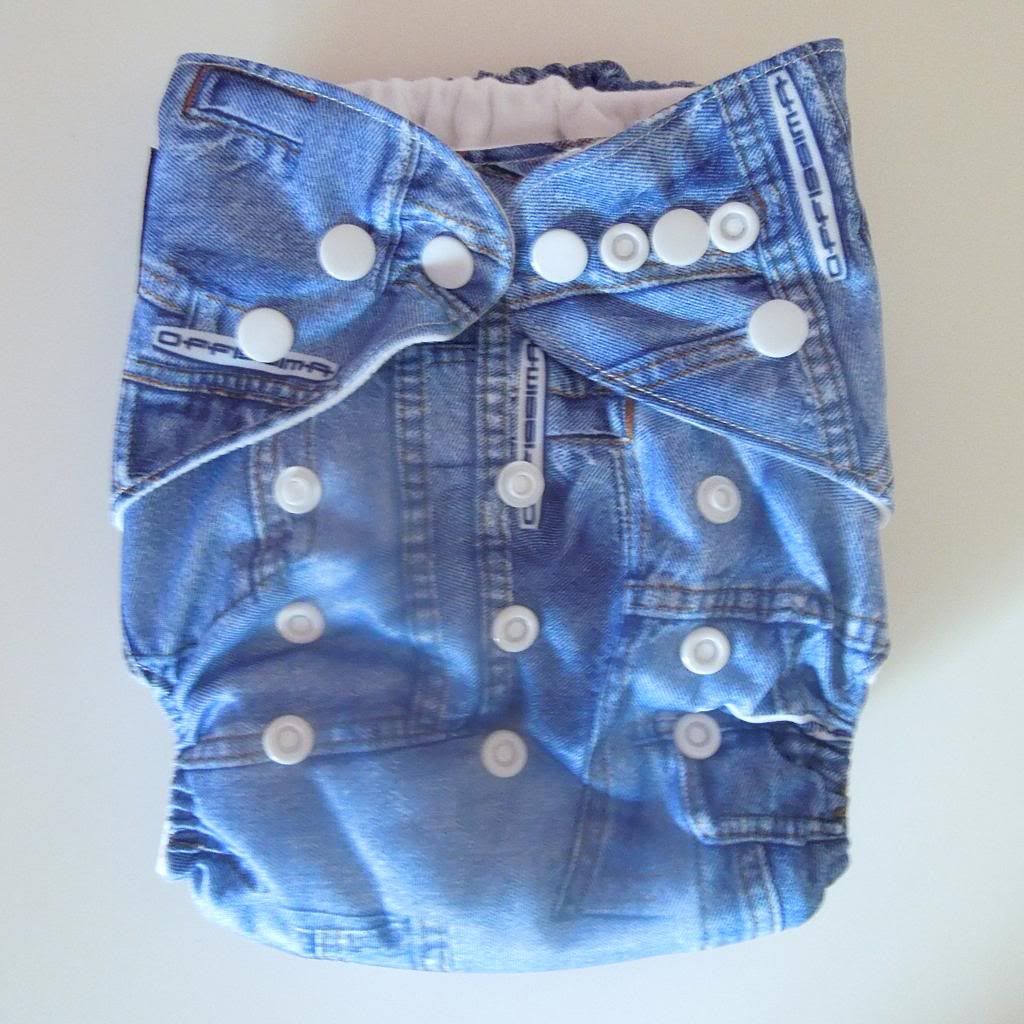 To be honest, I was a little hesitant about the denim print at first. It's like that dress on the rack that you wouldn't normally choose but somebody convinces you to try it on. Based on the picture, I would not have chosen the denim print myself. But that's what I was sent so that's what we were going to try! Right away, the diaper was cuter in person than the online picture. Once I put it was prepped I put it on Babycakes and I loved it. It's different from any other diaper in our stash and its way cuter on a baby than sitting in your stash, Just like that dress that looks way better when worn than hanging on the rack.
As I said earlier, it's different from any other diaper in our diaper stash. Not only is the print different but the structural design of the diaper is different too. At first glance, the diaper is a pocket diaper. The diaper felt padded but there was no insert included with the diaper. After a few seconds of checking out the diaper, I discovered that the insert is already built-in to the liner! I had never seen an AIO design like this and thought it was pretty neat and I liked that there was still a full-sized pocket to add another insert if I wanted.
See how padded the diaper looks? It's not stuffed,that's the built-in insert in the lining! You can also see the double gussets in the picture. I love double gussets. They're great for all babies but I find them especially important with skinny leg babies. It's often difficult to get a good leg fit on really young skinny babies and I always worried that she would leak out of the leg when she was younger. I almost never worried when she had double leg gussets in her diapers because I knew they would contain everything. Since Babycakes is a little older and her legs are a little bigger (but still skinny) I don't worry about leg leaks as much but I still love the double gussets. They're especially handy when the babies poop because the double gussets keep the poop in a more centralized location in the diaper without spreading out to the side of the legs. Double leg gussets have two thumbs up in my book!
The first time Babycakes wore the diaper, it was nap time. Since I wasn't sure how absorbent the built-in soaker was, I decided to add an extra insert to the pocket. I'm glad I did because Babycakes has a tendency to be a heavier wetter during her afternoon nap, probably because nap time usually follows lunch! What a life, fully belly followed by an afternoon siesta…
Anyways, I would recommend adding the extra insert for nap time. I don't bother adding an extra insert during active times of the day. I change her often enough and the built-in insert is absorbent enough to get through those regular diaper changes.
Since this diaper has a built-in insert that is not removable for washing and drying, I'm guessing you're wondering how well it washes and dries. Washing is a breeze. It comes clean just as any of the other pocket or AIO diaper would.Note: If I have stuffed this diaper with an extra insert, I un-stuff it before it goes in the diaper pail; which is what I do with all of our pocket diapers even if they are supposed to 'agitate out' on their own. It's just the way I do it because it works for us and our front loading machine.
I have a few AIO diapers that take quite a bit more time drying than my pockets or AIO that have a fold in attached insert. Since the Comfy Rumps diaper was built-in and stayed in place for drying, I was really curious about how it would dry. These diapers dried just as quickly as my fav AIO's and all of my pocket diapers. Yay for no extra drying time needed!
The Comfy Rumps double gussett diaper fits Babycakes really well. The material is very stretchy and there are several rise options to choose from. There are also enough waist snaps to choose from to guarantee a great fit at the waist. Based on the stretchiness and number of sizing options, I believe that this diaper will fit great on any size baby. The diaper is also relatively trim but will naturally be bulkier if you add extra inserts. Overall, great fit!
Comfy Rumps cloth diapers come in a variety of colors and prints. They are available in Original, Fuzzy Wuzzy, Double Gussetted, Fuzzy Wuzzy Double Gussetted, Bamboo, Newborn/Premie and are available as training pants! That is a lot of choices! The great thing about Comfy Rumps Diapers is that they are super affordable! Prices range from $6.50 for newborn/premie diapers to $10.25 for bamboo! Nice!
If you'd like to try Comfy Rumps Cloth Diapers for yourself, you can purchase them here. You'll also have a chance to win one here at Babycakes Crunchy Momma along with several other cloth diaper related prizes. The giveaway will begin on July 17th as part of the Summer Fluffing Event which will be hosted by the Blogging Mamas Network! Subscribe to my posts via email so you don't miss out!
**Disclaimer I was sent a diaper from Comfy Rumps Diapers free of charge in exchange for an honest review. All opinions are my own and may differ from yours.