A big shout out and thank you to Funky Fluff for sending me a Stay Dry 3-in-1 cloth diaper for review! Funky Fluff are "fun and funktional fusion cloth diapers"!
Funky Fluff is a Canadian based cloth diaper company founded by two Toronto based moms, Kathy Bello & Tricia Corda. Funky Fluff & Stuff Inc. Cloth diapers are their passion and their passion created high quality, affordable and adorable cloth diapers and accessories.
Funky Fluff Fusion 3-in-1 cloth diapers are really versatile diapers. They can be used 3 different ways, depending on your preference. 3-in-1 diapers can be used as pocket diapers, All-in-1 or All-in-2 diapers. Here's an easy to follow user guide from Funky Fluff that shows you all the wonderful ways their diapers can be used:
 I use the diaper as a pocket diaper. Most of the diapers in my stash are pockets so when I'm doing the fluff laundry and stuffing the diapers, I stuff this one as well. I really like that the diaper is so versatile and I could use it as an All-in-2 or All-in-1 if I choose. I'm really intrigued by the All-in-2 option and will be trying it with my Funky Fluff Fusion soon. I recently acquired some other AI2 diapers and like how easy they are, no stuffing! The insert is made of fabric that is safe against baby's skin so you don't have to worry about rashes from your baby's skin becoming 'too dry'.
I was sent the Fusion Stay Dry 3-in-1 diaper in Orange and Turquoise for review. Check out how cute it is!
I LOVE the color combination of this diaper and all of the diapers! They're A.D.O.R.A.B.L.E.! Seriously. Some of my other favorite color combinations are the Pink & Grey, Teal & Lime and Purple & Green. They also have two really cute prints, Birds and Bubbles.
Product Description
I don't often include entire product descriptions from websites but for the Funky Fluff diapers, I seriously can't say it better myself. Here's what Funky Fluff diapers are all about:

"Product Description The suedecloth fabric chosen for our FUNKY FLUFF Stay Dry diaper wicks moisture away from the skin, leaving baby feeling dry and comfortable while preventing rashes. Suedecloth is thinner and doesn't pill like microfleece and in turn remains looking new longer. Suedecloth is also much more resistant to staining. Messes are easier to clean up as poop "peels" off this material instead of becoming embedded in it. This fabric is also very durable, does not snag or tear easily and dries quickly.    Design Features:
Our ultimate workhorse diaper is a fail-safe against leaks!
Stay Dry 3 in 1 System: Pocket, All in One, All in Two. Use it any way you like it.
One Size design fits babies from 7 – 35+ lbs
2 x 4 rise settings adjust to fit newborn, small, medium and large sizes
Unique funky coloured "belt" on each diaper
Double row of durable snaps allow separate waist and leg adjustment
Cross over snaps give a great newborn fit and also function as a tidy storage option for soiled diapers on the go. Roll it up and snap closed until wash day.
Hip snaps help to prevent "wing droop"
Stretchy & soft around legs and waist
Double gussets (just like in disposables!) provide an additional barrier of protection to prevent spills
Pocket opening in the front and back make it easier to get the soaker in and out
Pocket openings are wide enough for daddy's hands
Trim design in the middle gives a perfect fit
Waterproof strip at the top edge of the diaper provides additional protection against leaks
An outer layer of breathable, waterproof polyurethane laminated polyester (PUL) keeps wetness contained
 Stay Dry Soaker Features:
Each FUNKY FLUFF diaper comes with 2 unique soakers!
Our light, smaller soaker, consisting of 3 layers of microfiber and 1 layer of stay dry fabric, can be used in the newborn and/or small rise setting. It can also function as a booster for overnight and for older babies
Also included is our heavy duty, super absorbent soaker consisting of 4 layers of microfiber and 1 layer of stay dry fabric
The heavy duty soaker can be folded at the crease line and used in a newborn and/or small setting for heavy wetters if the light soaker is not enough. For maximum absorbency, the soaker can be placed with the folded portion at the top of the diaper for boys and with the folded portion at the bottom for girls
Our soakers snap into the top and/or bottom of the diaper shell (if desired) to keep them in place for mobile babies and toddlers and when snapped in at both ends create an All In One system
FUNKY FLUFF soakers have the ability to agitate out in the wash on their own (when snapped in at one end of the diaper) eliminating pulling out soiled soakers by hand. No more touching wet and dirty soakers!
The soakers may also stay attached to the diaper while in the wash (although at times they do separate from the shell). You'll spend less time sorting laundry with this feature."
My Opinion of Funky Fluff Diapers
I love them! Funky Fluff really lives up to their detailed product description. We get a GREAT fit on my skinny little Babycakes. With the plethora of snap and rise options I am able to get a nice snug, leak-proof fit without being too tight.
** Gross (but important) topic alert ** The description of poop 'peeling' off the liner is very accurate. I don't use a diaper sprayer so when Babycakes poops, we either dump the poop into the toilet or use a bit of toilet paper to pull the poop off and flush. With this diaper, the poops falls off pretty easily into the toilet. It also washes out really easily and we haven't had a stain yet!
I've mentioned in other cloth diaper reviews that I love double leg gussets and Funky Fluff diapers have them! Score!
I love the design of the inside of the diaper. It really does an excellent job containing any mess that Babycakes can make. Well done Funky Fluff, well done!
As I mentioned above, I use this diaper as a pocket diaper. There are openings in the front and back of the diaper which make it really, really easy to stuff. Instead of having to push the insert all the way through, you can push it half way and then pull it the rest of the way through. It's so easy and really insures you get an insert that lays nice and smooth in the pocket.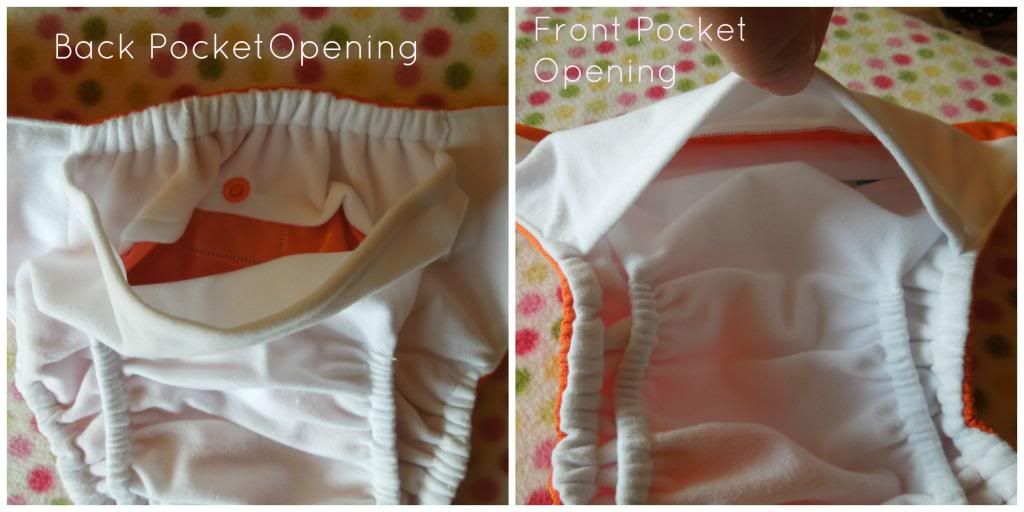 I really like the unique soakers that Funky Fluff & Stuff Inc. have created. They're thick, but not bulky and very absorbent. I love the design of these soakers. They're unlike any other soaker/insert I have in my stash. The absorbency vs. size is great!  They can absorb a lot of liquid without being too bulky and they don't take extra time to dry! They dry just as quickly as my other stay-dry inserts.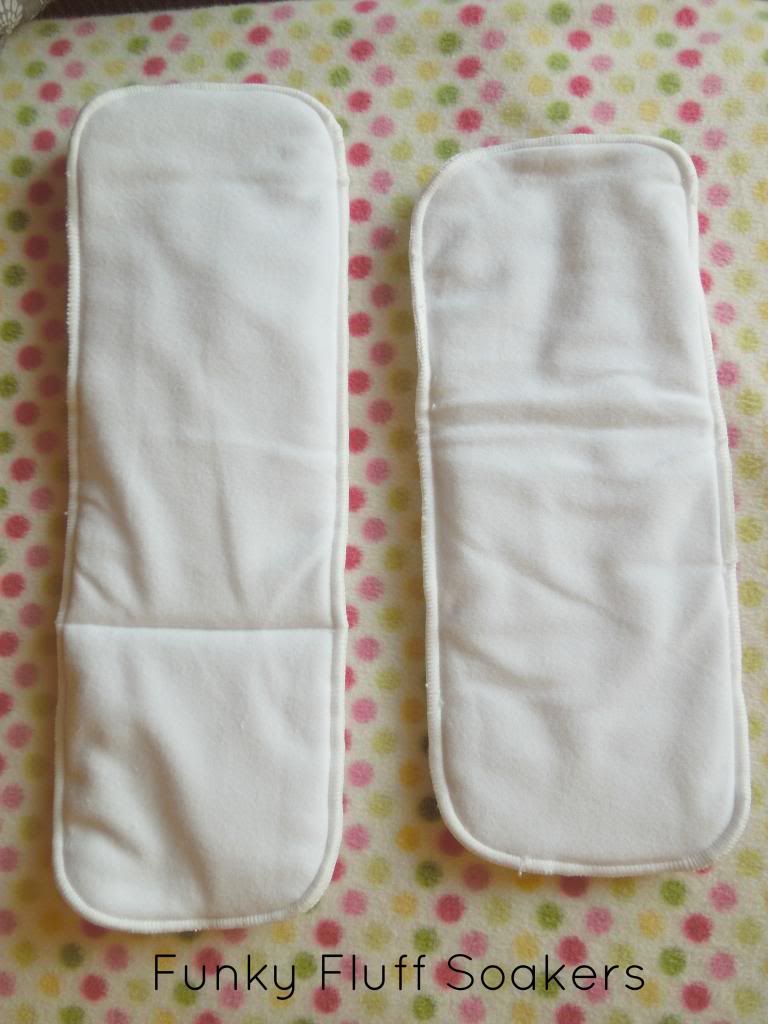 Overall, I really like this diaper. It fits Babycakes really well, we've had no issues with leaks, its super cute and it's very absorbent. Basically, the Funky Fluff Fusion Stay Dry 3-in-1 System is the next diaper you want to add to your stash. It's one of our favorite diapers in our extensive stash and will be for a long time.
Get Funky! Are you wondering how you can add some funk to your life? Funky Fluff diapers are available online at Funky Fluff & Stuff Inc. and at select in-store retailers and online retailers. Since Funky Fluff is a Canadian based company, most of the retailers are based in Canada. Good news for US fans though, there are 3 retailers in the United States for your Funky Fluff purchasing pleasure! Yay for breaking into the US market!
Funky Fluff & Stuff Inc. offers their 3-in-1 diapers in bamboo and stay dry. Diaper bundles are also available for those who are looking to buy in bulk. In addition to diapers, Funky Fluff offers wet bags, pail liners, boosters/soakers and cloth wipes. They also sell a Funky Fluff Starter Kit. The starter kit includes 1 Funky Fluff Fusion 3 in 1 Stay Dry Diaper, 1 Funky Fluff Fusion 3 in 1 Bamboo Diaper, 1 Funky Fluff Double Pocket Wet Bag, 1 Funky Fluff Bamboo Booster, and 1 additional Stay Dry soaker all for just $62.57! What a deal! The starter kit would be a wonderful baby shower gift for a mom interested in using cloth diapers or a great way to introduce Funky Fluff products into your stash without breaking the bank!
Feeling lucky?! You'll also have a chance to win one here at Babycakes Crunchy Momma along with several other cloth diaper related prizes. The giveaway will begin on July 17th as part of the Summer Fluffing Event which will be hosted by the Blogging Mamas Network! Subscribe to my posts via email so you don't miss out!
**Disclaimer I was sent a diaper from Funky Fluff & Stuff Inc. free of charge in exchange for an honest review. All opinions are my own and may be different from yours.